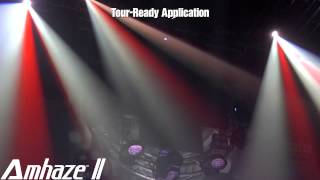 The FULL LINE of CHAUVET Professional Atmospherics!
Play video
Amhaze™
Amhaze™ is a road-ready, water-based haze machine, well suited for large-scale applications. The unit is housed in a durable, low-profile road case that can be set up on the deck or flown from truss, with safe Neutrik® powerCON® connectors. Amhaze™ has a short 4-minute heat up time and a super dry 3,000 cubic feet per minute of continuous output. An onboard display easily assigns DMX addressing and an onboard timer system adjusts the output of haze in intervals and duration times without DMX control.

CHAUVET® PHF Fluid is formulated specifically for use with the Amhaze™. It generates a thin mist of haze, doesn't stain or leave residue, and is nontoxic, nonflammable and unscented.
• Professional, water-based haze machine with continuous variable output will provide a thin or thick veil of haze for any application
• Haze output and blower speed are adjustable via DMX or the LCD screen
• NEUTRIK® powerCON A locking power connector provides a secure connection that will not come loose
• Onboard 3-pin and 5-pin DMX connectors offer great flexibility
• The flight case design is suitable for rugged environments
• Onboard timer system with adjustable interval and duration times (1 ~ 200 sec) which outputs haze when needed
• Built-in circuit breaker prevents damage to the machine due to faulty electricity
• The included vent accessory allows you to angle the fog in either a downward or upward angle
• DMX channels: 2
• DMX connectors: 3-pin & 5-pin
• Tank capacity: 1.3 gal (5 l)
• Heat-up time: 4 min
• Output: 3,000 cfm
• Fluid consumption: 18 ml/min
• Breaker size: 10 A
• Input voltage: 120 VAC 60 Hz; 230 VAC 50 Hz
• Power and current: 830 W, 6.9 A @ 120 V 60 Hz
• Power and current: 1640 W, 6.9 A @ 120 V 60 Hz
• Weight: 35 lbs (15.8 kg)
• Size: 21.5 x 24.7 x 8 in (546 x 629 x 203 mm)
• Approvals: CE
Specifications subject to change without notice!